Don't Be Stumped
Call Us Today!
800-517-8867
East & West Bay Stump Removal
Matthew Morgenstern
East Bay Stump Removal ewbstump@hotmail.com
Kevin Morgenstern
West Bay Stump Removal wbstump@yahoo.com
---
---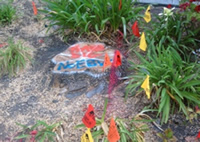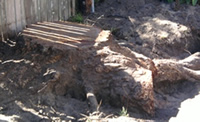 Services
We specialize in stump grinding. That is what we do, and because it is our focus, you can be assured that our attention to detail will be unmatched. Here is what we can do for you:
Respond to Your Inquiry Promptly.
Are you on a schedule? Need it done yesterday? We will always do our best to accommodate you.
Show Up When Promised and Do the Job Right the First Time
Cancellations and delays are frustrating when you want to get something done. Our goal is always to meet our commitments. If for some reason we are unable to make an appointment, you'll be notified at the earliest possible moment.
Locate Utilities
Many people assume that utilities wouldn't be under a stump because it seems illogical to put a pipe or wire directly under a tree. Logical or not, our experience has shown us that it is not at all unusual. In later model construction, overhead utilities were given up in favor of underground installations, increasing the likelihood that a potential conflict may exist.
Protect Your Property
Whether it's protecting the lawn with plywood sheets, protecting windows from flying debris, or locating a potential underground hazard BEFORE starting the job, you can be assured that safety is our primary consideration.                                                                                               
Excess grindings can be dealt with in a number of ways. Smaller quantites can be placed in green waste for recycling. Stump grindings are suitable for top mulch to aid in moisture retention. We can move excess to other areas of your propery. We can also include a cost for hauling or refer you to an appropriate contractor.
Make Repairs
If repairs to irrigation systems are required, we can generally provide this service.
Replant
Where possible we can replant a new tree where the stump was. Have a larger project in mind? We can refer you to an appropriate contractor.